Company Introduction
Regency United (RU) was founded in 2010 and has been involved in various projects for the past Seven Years in the Kuwait market. We are proud to say we have successfully accomplished all our Government and private projects in the country and are known for best performance and amazing team of skilled all-round workers.
As part of diversity in the Kuwait market, Regency United entered into the Oil and Gas field in the Kuwait Market for Mechanical, Welding of cross country Pipeline, Flowlines works and Horizontal Directional Drilling jobs.
As Regency United, we have built a reputation for being 'Can-do' policy throughout our business. The company is renowned for the delivery of difficult projects with as in- depth understanding and outmost care of customer needs and 'No-Compromise' strategy on Safety and Quality. The core business being Mechanical, Welding of cross country Pipeline, Flowlines and Horizontal Directional Drilling works, Regency United are looking forward to explore our capabilities in Kuwait Market.
Regency United began Oil and Gas works in 2010, Since then it has made substantial advances in the contracting market and have successfully completed several projects for various clients for Kuwait Oil Company
Regency United has built a reputation as one of the leading Horizontal Drilling construction companies reinforcing the presence in the contracting market. During this period, the company has gained experience and expertise allowing it to accept any challenging project, no matter how sophisticated or critical the nature of the project. It is this kind of positive performance which has resulted in the expansion of the Company's activities from India to other regions.
Regency United believes in a single point of contact to the Client, which provides easy resolution of key issues promptly. In addition to the field management staff and construction team assigned at the site, a separate technical support staff stationed at our Company. Main Office will provide engineering, technical and administrative support and services to the site. The technical services are fully integrated/aided by the Contractor's computer capabilities currently utilized on a wide range of project applications including scheduling, monitoring, cost control, personnel/material/equipment tracking and periodic construction reports. Close liaison is maintained between the site and the Head Office to ensure continuous support is delivered. As logistics and administrative supports are concerned, as well as establishing frequent and direct co-ordination and interfacing with the client representatives to assure work is performed in compliance with contract and customer requirements.
Regency United work crew and work shift philosophy is flexible enough to accommodate the fast track nature of projects and its influence on productivity of personnel & resources. It will also be suitably changed to suit the Materials availability & requirements, thus ensuring in every way to meet completion targets.
Organization Chart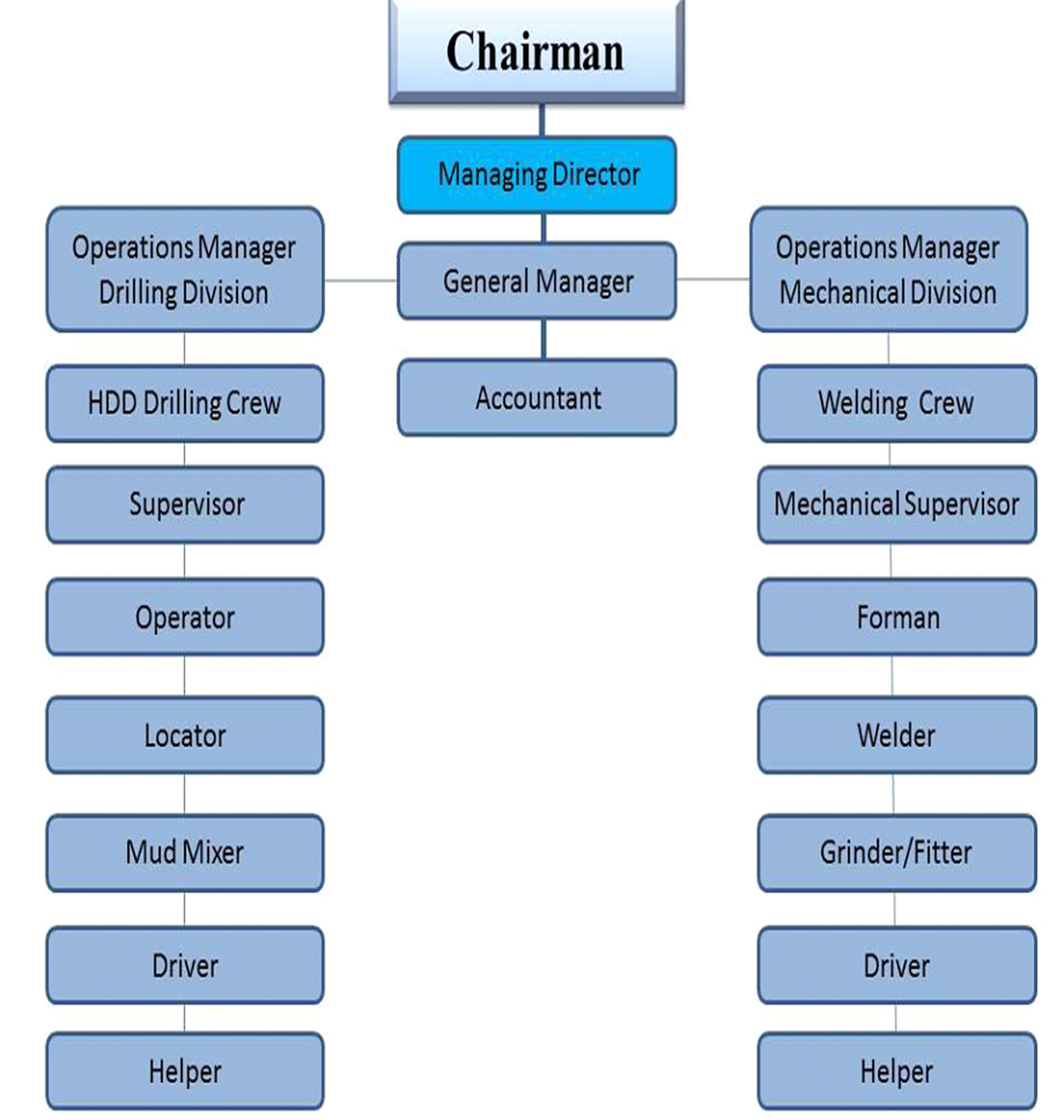 We prides itself on the strength of our Organizational Structure and the talent and quality of our people, because the strength of our organization and talent of our team is what sets us apart from our competitors.
Yes, we use specialized equipment and some of the most innovative drilling methods in the world today and we have an unshakable commitment to safety and environmental best practice, but without the correct structure and the experienced key personnel we could not provide excellence in the delivery of services, on time and on target, every time.
We attraction is some of most respected HDD personnel, combining over 10 years' experience in innovative trenchless construction operations, having successfully completed some of most complex HDD pipeline projects. We are driven to identify, attract and retain the most competent personnel in our industry and to provide them with a productive, safe and harmonious work environment.
Our core belief is that its success is underpinned by an agreed direction by the owner, senior management and all personnel; a strong and genuine client focus; effective recruitment of the right people – "the engine room of the company". We continuously monitor and search for rooms of improvement in our industry, leading systems and protocols.
Through the strong organizational structure and key talent we are able to provide a comprehensive suite of services.
Our Organization structure shows the best of our capabilities.